movable/swing and fixed jaw plate for jaw stone crusher spare parts 250X400,250x1200 SHANGBAO SMB mesto,sandvk,etc
movable/swing and fixed jaw plate for jaw stone crusher spare parts 250X400,250x1200 SHANGBAO SMB mesto,sandvk,etc
| | |
| --- | --- |
| Packaging: | jaw plates well packing by steel pallet in 20\' ,40\' Container or in Bulk.Other crusher spare parts can paking in wooden case |
| Brand: | OEM for all kinds of jaw crusher brand |
| Place of Origin: | Shanghai, China (Mainland) |
Basic Info
Model No.: PE/PEF/PEX/PEW,etc( Any models can be customized.)
Product Description
 Jaw plate is one of our best sale products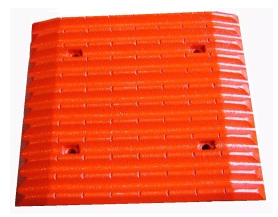 Product Description Jaw plate is the main
Wear Parts
in jaw
Crusher machine
,usually include 1 Fixed jaw plates         2.Movable jaw plates   Different model
jaw crusher
have different quantity jaw plates in it.Usually is 2 pcs, more will be 4 psc, 5 pcs,6 pcs,etc.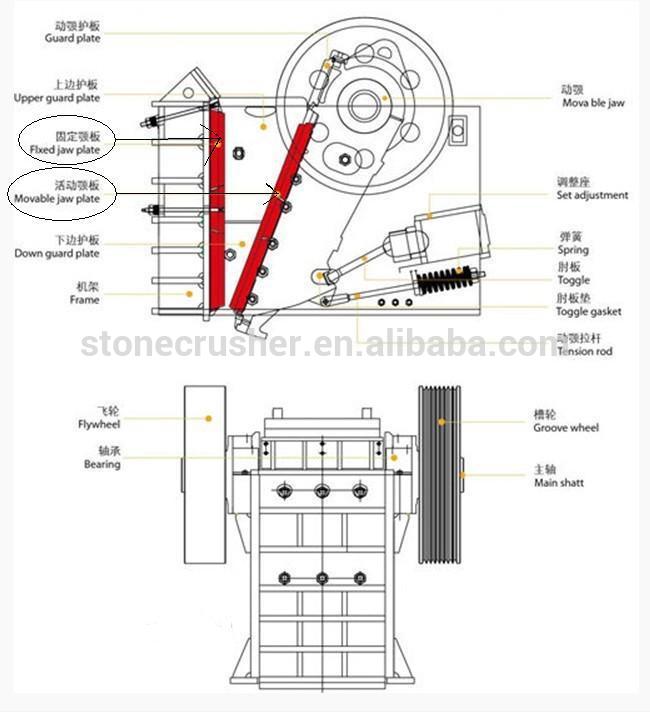 All
Spare Parts
for
Jaw Crusher
available:             jaw plate(jaw liner,jaw die),
toggle plate
, up guard plate, down guard plate, set adjustment, tension rod,toggle gasket, spring, tension rod,eccentric shaft,end cover, block, moving jaw, frame, spring, bolt and nuts,washer,side liners,wedges,pitmans, jawstocks,etcs     Brand and model
  All Chinese brand

sanbao,jianshe,mingyu,SMB,YK,etc

PE series: 60X100,150X250,250X400,250x500,400x600,430x600,475x1050,500x750,600x750,600x900,620x900,670x900,750x1060,800x1060,900x1200,1000x1200.1200x1500,1500x1800,etc





PEX series:100X600,150X750,200X1000,250X750,250X1000,250X1200,300X1300





PEV series:430x650,500x900,600x900,750x1060,





PEF series,PEZ series ,PEW,etc





Overseas brand

Allis Chalmers, Altairac, Atlas Copco, Baxter, Bergeaud, BJD, Blaw Knox, BL-Pegson, Boliden Allis, Brown Lenox, Cedarapids, Brown Lenox,CFBK, Extec, Faco, Finlay, Fintec, FLSmidth, Fuller Traylor, Goodwin Barsby™, Hart'l, Hazemag, Hewitt Robins, HMH Rubblemaster, HRI, Impact Technology, Kemco, KDS, Kleeman Reiner, Kobelco, Mesto round, Metso Komatsu, Krupp, Kue Ken, Lokomo, Mesto Minerals™, Minyu, Morgardshammar, Neyrtec, Nordberg, Officine Mechaniche, OM, Osborn, Parker, Pegson, Pegson-Telsmith, PLC Hunwick Ligthning, Pilot, Powerscreen-Pegson, Sandvk™, , Sheepbridge, Svedala, Symons, Telsmith, Terex-Finlay, Terex-Pegson, Tesab,Terex Cedarapids,Terex Cedarapids, Terex Jaques

 

C30,C3054,C63, C80, C 96, C100,C100B , C105,  C 106, C110  C110
C110 ,C120 C125,C140,c160,C200,1108JM,1208JM,1211JM,900X600,1100x650,1100x800,1300x1050,C10+,C12+,J1160,J1175,JW 42,JW 55,JW 40, 2644 Premier Track,3244 Max Track , pegson 26 x 44 ,XA 400, XR400,10570,10580,etc
  * All  brand names, model names or marks are owned by their respective manufacturers. YK has no affiliation with the OEM. These terms are used for identification purposes only and are not intended to indicate affiliation with or approval by the OEM. All
Crusher
part jaw plate are manufactured by, for and warranted by YK and are not manufactured by, purchased from or warranted by the OEM.  
Packaging & Shipping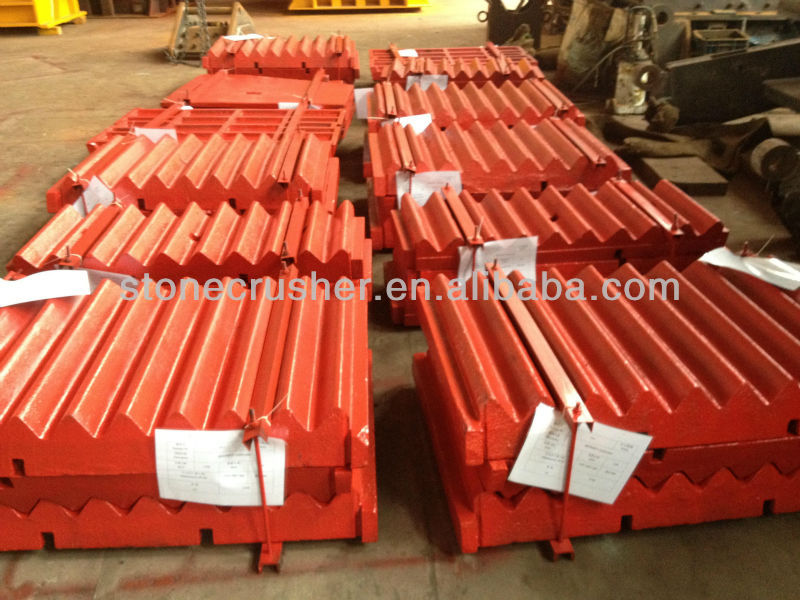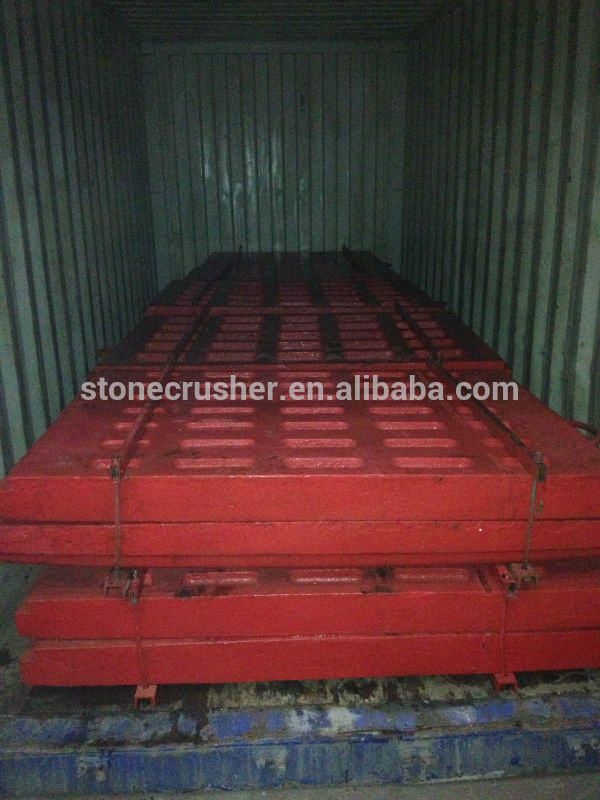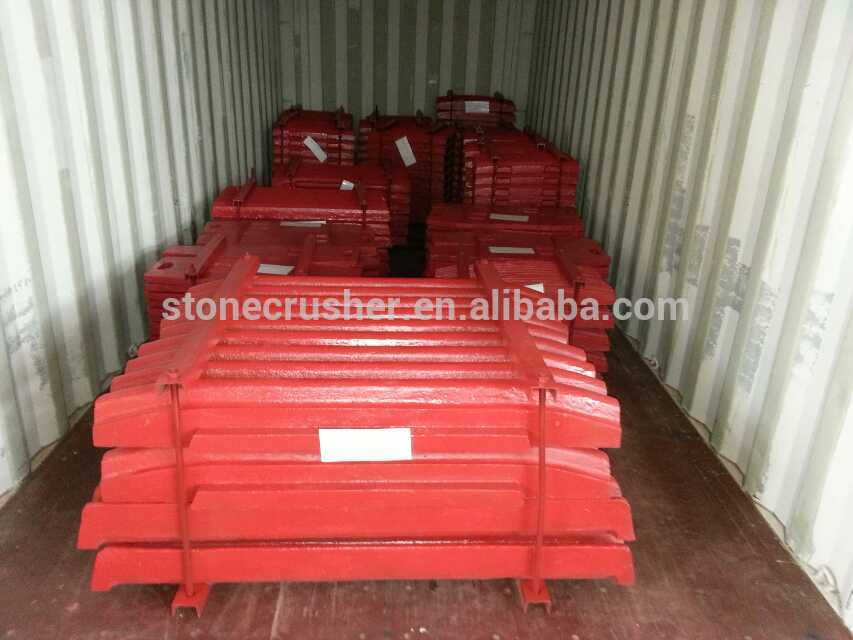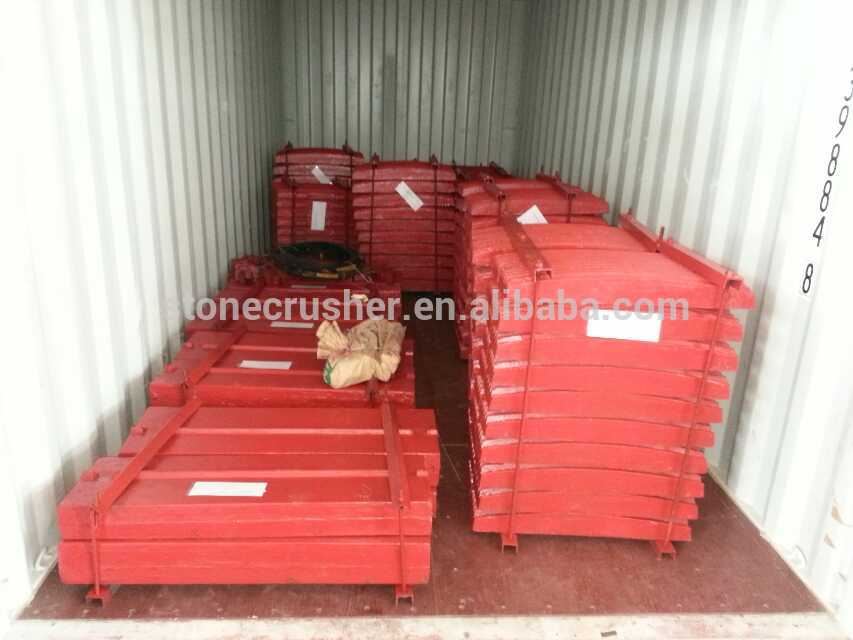 Available country for jaw plate buyers  (1 )Asia China, Mongolia, North Korea, South Korea, Japan,Philippines, Vietnam, Laos, Cambodia, Myanmar, Thailand, Malaysia, Brunei, Singapore, Indonesia, East Timor Nepal, Bhutan, Bangladesh, India, Pakistan, Sri Lanka, Maldives  Kazakhstan, Kyrgyzstan, Tajikistan, Uzbekistan, Turkmenistan Afghanistan, Iraq, Iran, Syria, Jordan, Lebanon, Israel, Palestine, Saudi Arabia, Bahrain, Qatar, Kuwait and the United Arab Emirates (UAE), Oman, Yemen, Georgia, Armenia, Azerbaijan, Turkey, Cyprus (2 )Europe Finland, Sweden, Norway, Iceland, Denmark (Denmark), Estonia, Latvia, Lithuania, Belarus, Russia, Ukraine, Moldova Poland, the Czech Republic, Slovakia, Hungary, Germany, Austria, Switzerland, Liechtenstein,Britain, Ireland, the Netherlands, Belgium, Luxembourg, France, Monaco Romania, Bulgaria, Serbia, Macedonia, Albania, Greece, Slovenia, Croatia, Bosnia and Herzegovina,Italy, the Vatican, San Marino, Malta, Spain, Portugal, Andorra (3)Africa  Egypt, Libya, Sudan, Tunisia, Algeria, Morocco, the Azores (Portugal), Madeira (Portugal), Ethiopia, Eritrea, Somalia, Djibouti, Kenya, Tanzania, Uganda, Rwanda, Burundi, SeychellesChad, Central Africa, Cameroon, Equatorial Guinea, Gabon, Republic of the Congo ( Congo (Brazzaville)). Democratic Republic of the Congo (the Congo (DRC)), Sao Tome and the Grenadines ,Mauritania, Western Sahara, Senegal, Gambia, Mali, Burkina Faso, Guinea, Guinea-Bissau, Cape Verde, Sierra Leone, Liberia, Cote D'Ivoire, Ghana, Togo, Benin, Niger, Canary Islands (West)Zambia, Angola, Zimbabwe, Malawi, Mozambique, Botswana, Namibia, South Africa, Swaziland, Lesotho, Madagascar, the Comoros, Mauritius, La Reunion (French), St. Helena (United Kingdom) (4)Oceania Australia, New Zealand, Papua New Guinea, Solomon Islands, Vanuatu, Micronesia and the Marshall Islands. Palau, Nauru, Kiribati, Tuvalu, Samoa, Fiji, Tonga, Cook Islands (new), Guam (U.S.). New Caledonia (Act), French Polynesia, Pitcairn Island (British), Wallis and Futuna rich (Law), Niue (new). Tokelau (New), American Samoa, the Northern Marianas (U.S.) (5)America Canada, the United States, Mexico, Greenland (Denmark) Guatemala, Belize, El Salvador, Honduras, Nicaragua, Costa Rica, PanamaThe Bahamas, Cuba, Jamaica, Haiti, the Dominican Republic, Antigua and Barbuda, St. Kitts and Nevis, Dominica, Saint Lucia, Saint Vincent and the Grenadines, Grenada, Barbados, Trinidad and Tobago. Puerto Rico (United States) and the British Virgin Islands, United States Virgin Islands, Anguilla (British), Guadeloupe (French), Martinique (French), the Netherlands Antilles, Aruba (Dutch). Turks and Caicos Islands (Britain), Cayman Islands (Britain), Bermuda (Britain) Cayman Islands (Britain), Bermuda (Britain) Colombia, Venezuela, Guyana, French Guiana, SurinameEcuador, Peru, Bolivia  Brazil,Chile, Argentina, Uruguay, Paraguay   Jaw plate Advantages     1). easily fit into jaw
crusher
          2) ensure minimum down-time     3) maximise wear life     4).high quality on wear-resistant      5).nice surface     6).competitive price     7) One of the best OEM manufacturer        Company Information  Shanghai Yike Road & Bridge Machinery Co., Ltd    is a reliable TOP 10 jaw plate supplier in solution for the aggregate and mining industry.It has headquarters in Shanghai and factories located in Shanghai& Zhejiang province.
  Quality, reliable and wear resistant parts you can trust will not only ensure minimum down-time but maximise wear life.     We are gold supplier and trade assurance of alibaba. if you order from us,you will enjoy discount and bussiness protect & safeguard from your order. please support us and we believe we can provide you higher quality and better service for you.   Welcome to our factory at any time. we have jaw plates in stock for your visiting.   Order our  jaw plates,you will bring benefit and happiness together. you won't any worries during production in your country...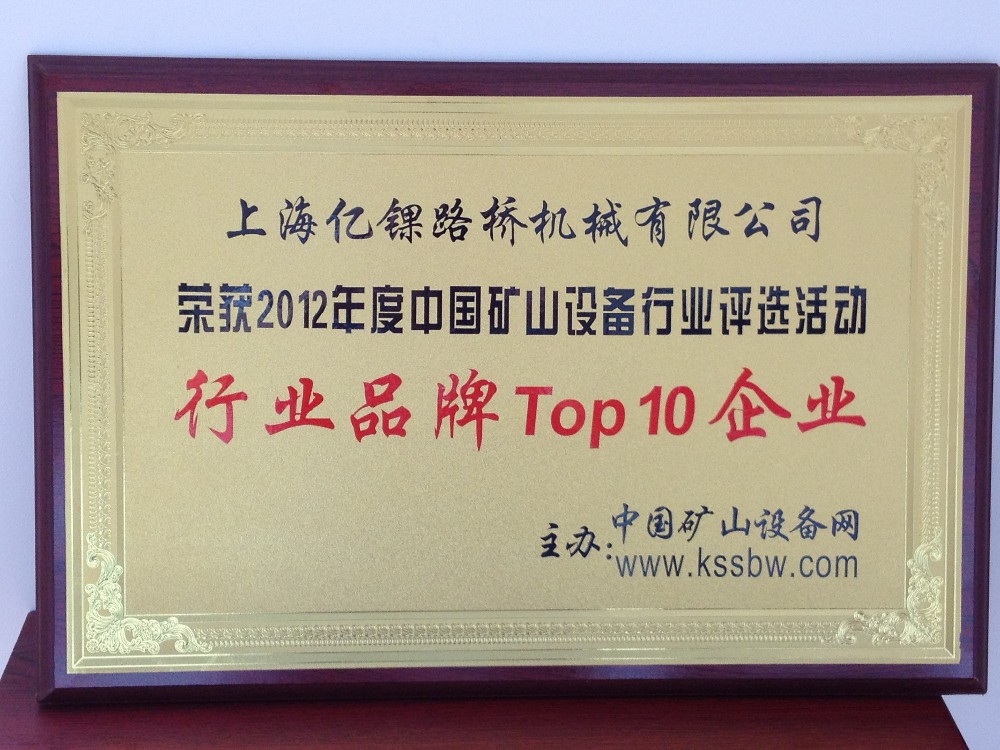 Contact us Company name:Shanghai Yike Road & Bridge Machinery Co., Ltd
Address:No.4015, Taiqing Road, Fengxian District, Shanghai, China
Tel:+86 (0)21 57561186Ext.802 Mobile phone:+8615921199197
Fax:+86 (0)21 57560424
Skype:shyikelq
Email:export

ykcrusher.cn   Please don't hesitate to call, email or  fax our spares team for a price and availability on any of your requirements.   Welcome custom-made jaw plates by your drawing or size.    Contact us if you need more details on Jaw Plate. We are ready to answer your questions on packaging, logistics, certification or any Other aspects about Fixed Jaw Plate、Movable Jaw Plate. If these products fail to match your need, please contact us and we would like to provide relevant information.
Product Categories : Parts of jaw crusher